Critter Catchers Book One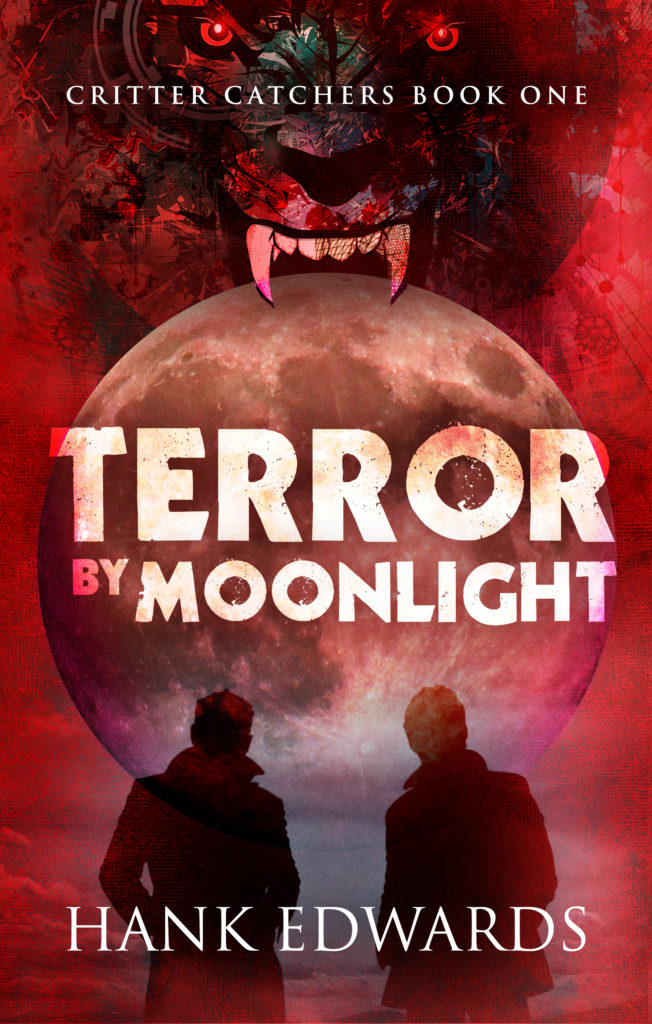 Cody Bower and Demetrius Singleton have been friends for over twenty years even though they are polar opposites. Cody is tall, handsome, athletic, and straight, and Demetrius is average height, more of a thinker, and gay. They have started an animal control business together and have to figure out how to be business partners without letting it affect their friendship, but that's the least of their problems. When one of their first clients ends up brutally murdered in what appears to be an animal attack, the two realize something big and dangerous is stalking their tiny town of Parson's Hollow, and it's up to them to catch it before it kills again.
Excerpt:
Several hours later, Demetrius's legs had fallen asleep. He shifted position again and winced at the pins and needles that prickled up his legs as the blood started flowing through them once again.
"I'm hungry." Cody's voice floated out from the other side of the tree in the darkness.
"Me too," Demetrius replied with a sigh. "Shouldn't be much longer now. Raccoons forage at night, so it should be coming back home soon, right?"
"Whatever you say, Ranger Rick," Cody said. He yawned, and Demetrius could just imagine him opening his mouth wide, showing off rows of glistening teeth.
"Keep it down," Demetrius whispered. "You'll scare the damn thing off before it gets to the trap."
"Fuck that," Cody grumbled. "It probably found someplace new to live. Stupid rodent."
"Raccoons aren't rodents. They're mammals."
READ MORE
Cody snorted. "Strike two against them. And strike two against old man McLeod for being such a crabby old fuck."
"You pitching a no hitter tonight or something?" Demetrius asked. "That's a lot of strikes."
"Look at you with the sports reference," Cody said with a chuckle.
"I've picked up a few things from you over the years," Demetrius said.
They waited silent and surprisingly alert for spending hours sitting in a tree in the woods outside old man McLeod's house. They had arrived later than expected after getting a flat tire on the truck, then finding the spare flat as well. By the time they'd arrived at the house, it was already late afternoon and Demetrius had to spend some time smoothing over any hard feelings Ian McLeod had from hearing Cody's unprofessional message as well as their tardiness. They'd climbed a ladder and shined a flashlight into the section of the house's eaves where the raccoon had jimmied open an entrance, finding it empty. They'd assured Ian McLeod no other raccoons were inside, but he'd protested, not believing them until Cody had climbed the ladder and snapped a picture on his phone.
After McLeod had agreed the nest did, indeed, appear to be empty, Demetrius had secured the opening and set a live trap on the ground beneath the spot. McLeod wanted the raccoon gone as soon as it was trapped because he didn't want "to be kept awake by the fucking thing's scratchings and scrabblings all fucking night long." To appease their first customer, Demetrius had agreed and convinced Cody they needed to wait to see the animal caught. Demetrius figured it would come back sometime after midnight, nothing too late. It had been Cody's idea to climb into the tree, his reasons muddled between "hunters do it all the time" and "I like trees."
That had been at sunset almost three hours ago. Now, they were tired, damp with dew, and hungry.
A muffled shout came from the direction of the house, and Demetrius felt a chill go through him. He closed his eyes to listen harder, then asked, "Cody, did you hear a shout from the house?"
Cody snorted. "Probably old man McLeod reliving the terrors of World War I."
Demetrius smiled, then stiffened as something trundled through the underbrush to their right.
"Is that it?" Cody whispered.
"I think so."
"Sounds like a big fucker, doesn't he?"
"Yeah. Bigger than that running back from Harriettville that got past you to run forty yards and score the winning touchdown the last football game of your senior year."
Incredulous silence followed Demetrius's comment. Then, "Really, Demmy? You gotta just keep shoveling that back in my face, don't you?"
"Shh, it's coming," Demetrius said with a grin.
Suddenly, a deep, vicious growl rumbled through the mist-shrouded trees. Moments later, something even bigger than what had been trundling through the woods pounced out of the underbrush a dozen yards away, and Demetrius could have sworn he felt a gentle ground tremor that made the tree sway.
"What the fucking hell was that?" Cody whispered, and Demetrius heard his own fear reflected in Cody's voice.
"Bigger than a raccoon," Demetrius whispered back.
Something squealed in terror and pain, and then a few seconds of silence followed. Complete silence. No insects buzzed, no frogs croaked, no night birds sang, nothing rustled. Demetrius slowly, quietly, let out the breath he'd been holding. The branch he sat on seemed to dig hard into his buttocks, and his bladder suddenly felt very full, but he was too scared to move. He felt the light touch of Cody's arm against his own where they each gripped the trunk of the tree, and that helped to reassure him a bit.
With a heavy huff of breath, the large, unseen creature tromped off deeper into the woods. In a few moments, the insects, frogs, and birds started up again, as if someone had thrown their "on" switch.
"Christ, that was scary," Cody said and pushed to his feet, standing on a thick branch.
"That was no raccoon," Demetrius added, as he stood up as well.
They climbed down from the tree and both squinted across the moonlit yard toward old man McLeod's house. Even in the deep shadows on the back porch, Demetrius could see the back door stood open, and the screen was shredded.
"What the fuck?" Cody stepped from the trees onto the dew-soaked lawn.
Demetrius followed, casting his gaze right and left until he saw something near the edge of the woods. "Wait, look."
They approached the twisted, bloody, furry lump, and Demetrius felt bile rise in the back of his throat. "Oh my God."
The front half of a fat raccoon lay at their feet in a tangled mess. Blood had splashed over ferns and bracken for at least a foot all the way around. Its eyes were wide, and its mouth gaped open, tongue lolling out the side. It had been bitten in half just behind its front legs, the sleek, nimble fingers spread wide as if reaching for escape.
"What the fucking hell?" Cody said. He turned to look at the back of old man McLeod's house. "Shit, Demmy. I think we're in a heap of trouble."
COLLAPSE