Welcome to my site! I am an "own voice" author of stories with gay main characters in a variety of genres, all with at least a touch of romance included. Check out the links in the header bar and click Hank's Books for a list of all my books and read excerpts. Thanks for stopping by, and please feel free to send me an email by clicking on Contact Hank in the header bar. I would love to hear from you!
You can find my books on my Amazon Author Page, at Barnes and Noble, Smashwords, Kobo, Bookbub, and PayHip.
NEW RELEASE!
Just in time for the holidays, a brand new standalone Christmas story releases on Thursday, December 3! This is a contemporary romantic comedy titled THE CHRISTMAS ACCOMPLICE, and it follows Welton Monroe as he arrives for a week's vacation at a ski resort in Colorado, even though his idea of a winter sport is playing D&D. There he meets Reece Donaghy, an employee of the resort who has applied for a promotion to an Assistant Activities Director position. The sparks ignited by Welton and Reece meeting are threatened by the arrival of someone from Welton's past and the knowledge that every one who checks into the resort eventually checks out. The Christmas Accomplice is available for purchase and in Kindle Unlimited on Amazon.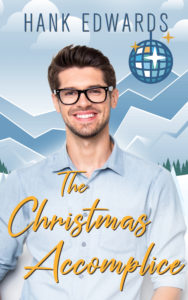 THE CHRISTMAS ACCOMPLICE
A vacation mix up.
A job promotion on the line.
A fateful roll of the dice.
Welton Monroe is on his first vacation in a very long time. He's not a winter sport enthusiast, but the cozy cabin at the Snowcapped resort, and Reece Donaghy, the hunky employee who checks him in, seem perfect to finally put his relationship with Dean in the past. That is, until Dean arrives. In an effort to make up for past wrongs, Dean offers to help Welton win Reece's heart, an offer Welton grudgingly accepts.
Reece should be focusing on the Assistant Activities Director promotion he's put in for, but he's more than distracted by Welton. In a whirlwind week of activities, Welton and Reece discover the Christmas magic in snowman building, karaoke, and tobogganing. But when the secret Welton has been keeping comes to light, and a final, large-scale challenge is assigned to Reece for his chance to win the promotion, it seems a week's worth of Christmas spirit may not be enough to keep them together once the holiday is over.
The Christmas Accomplice is a funny, sweet, and steamy opposites attract, almost-instalove standalone Christmas story, featuring funny friends, a "hot gay nerd", toboggan fun, and a Christmas-themed role-playing game like no other. Available Thursday, December 3 for purchase and checkout in Kindle Unlimited at Amazon.